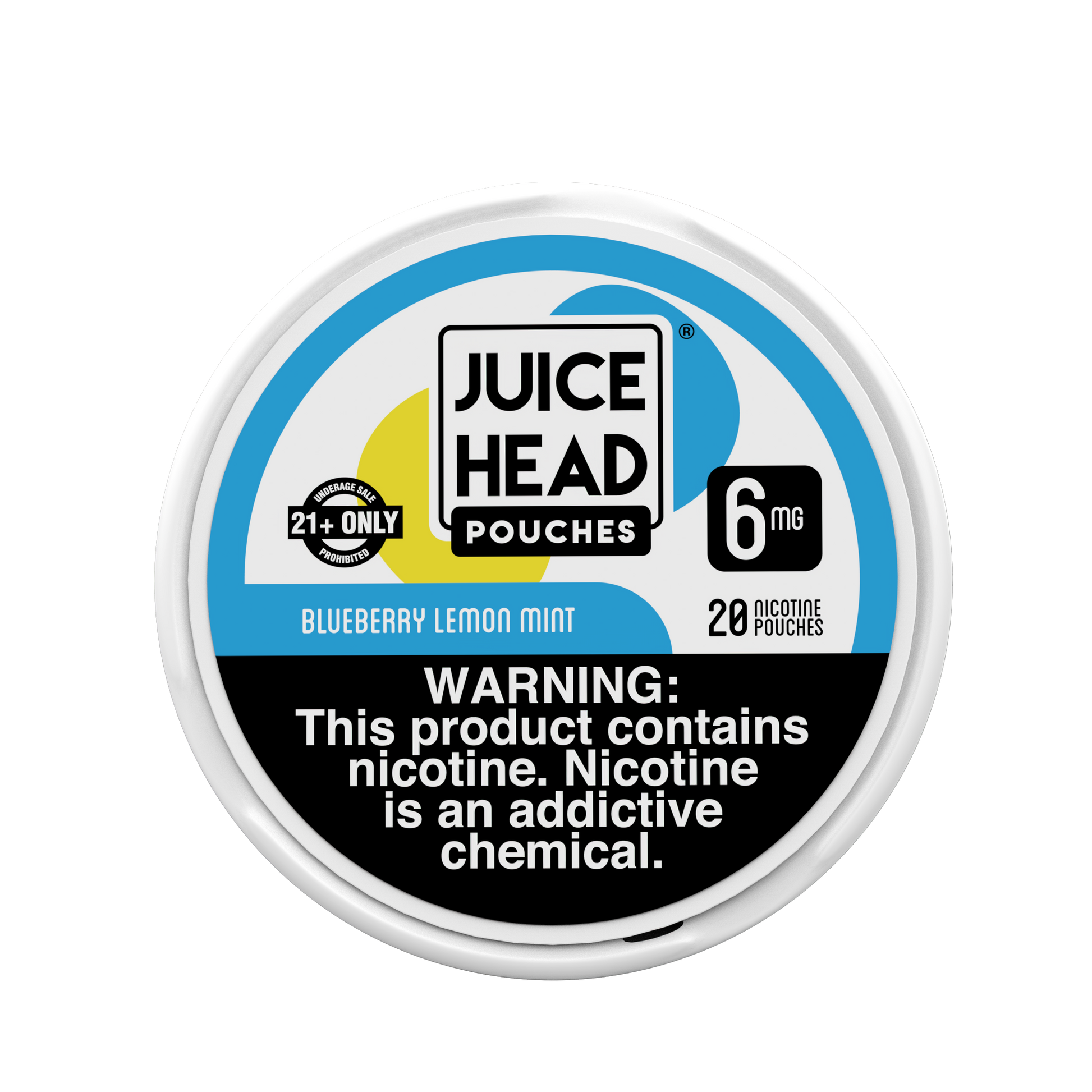 JUICE HEAD POUCHES - Blueberry Lemon Mint
$4.49
Excludes excise tax.

Learn More >

Due to state regulations, we are required to collect excise tax in the following states: UT, OK, NJ, NJ, NV, ME, GA, CO, and CA. Other states not listed do not require excise tax. Learn more about excise tax rates here: https://pouches.juicehead.co/pages/excise-taxes

X
Select Your Quantity
Stock Up & Save Up to 25% Off | Mix & Match with Other Flavors
Buy 5 ($4.04/can)
$20.20

10% Off
Buy 10 ($3.82/can)
$38.20

15% Off
Buy 25 ($3.59/can)
$89.75

20% Off
Buy 50 ($3.37/can)
$168.50

25% Off
Great product - recommended
I love all your products. How about a 2mg version?
Great!
These pouches are great. Nice flavor.
OMG
cant wake up in morning without popping one of these in lol #addicted #can't stop #help #seriously
Decent
By far the best pouches i have had. This blueberry lemon flavor is good but its not the best of the flavors offered.
Good deal, Great product
I Ordered the 25 can bundle and used the first time buyer coupon so it was an about 3 bucks a can. Can't beat that price for a quality product. It also arrived a day early. Will definitely order again to skip the middle man from my local convenience store.
Remove the mint flavoring
They taste great until the mint hits me and ruins it
Ripper
Taste 9.6/10
Nic hits right and the flavor isn't overwhelming but really solid man, reminds me of the perfect hookah sesh w the boys
they where really good not as good as other blueberry flavored things but not bad
love the taste and it's pretty strong to where it helps me not smoke!
Take your nicotine satisfaction to the next level and enjoy a burst of high-impact flavor with Juice
Head Blueberry Lemon Mint Nicotine Pouches. Made with tobacco-free nicotine, which does not contain Tobacco Specific Nitrosamines (TSNAs) like other tobacco products. Juice Head Blueberry Lemon Mint Pouches are available in two nicotine strengths (6mg and 12mg) and offer adult users a flavorful, discreet, and smoke-free way to enjoy nicotine satisfaction anytime, anywhere.
Made with Zero Tobacco Nicotine

20 Pouches Per Can
Looking for a larger size? Check out our Blueberry Lemon Mint 5-Can Sleeve