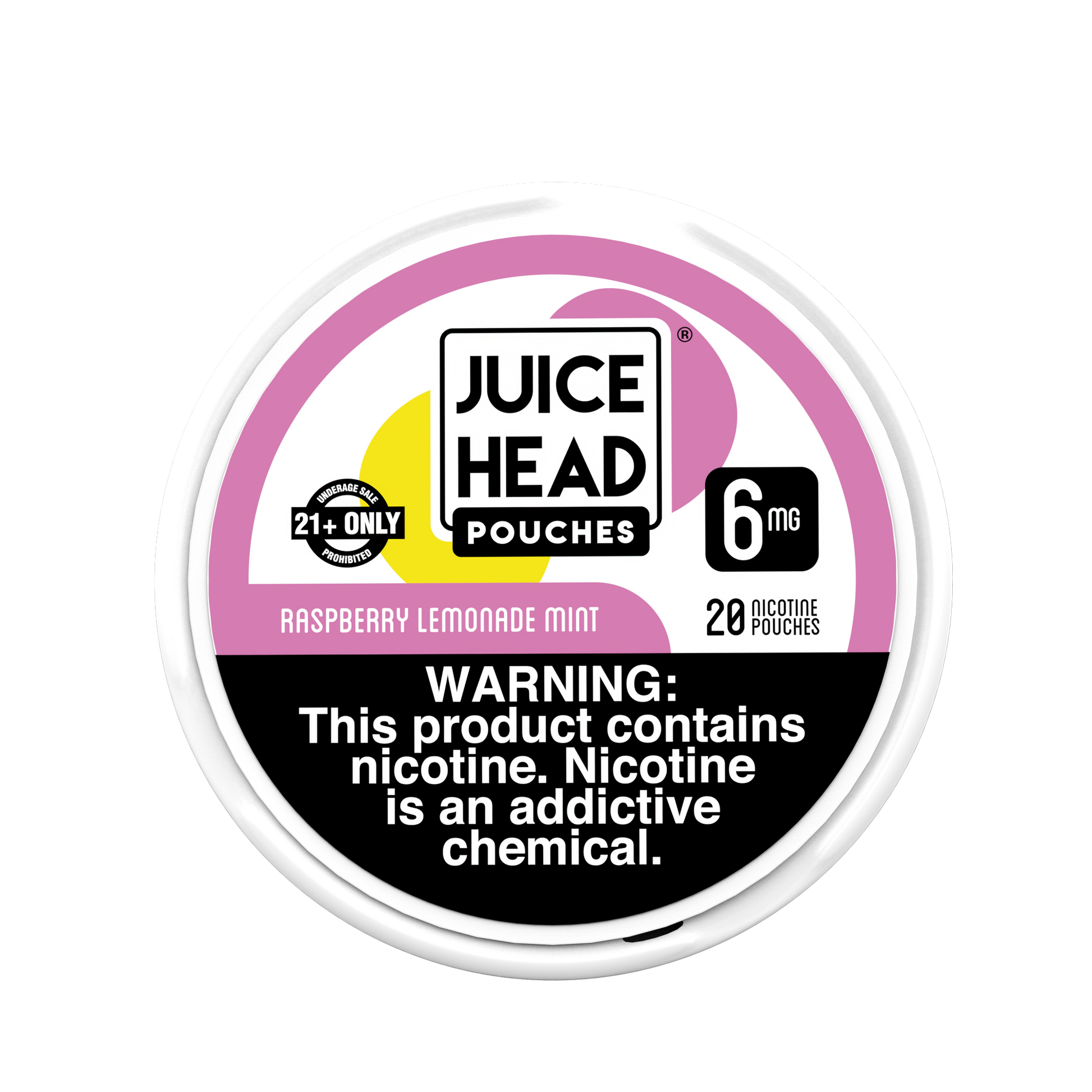 JUICE HEAD POUCHES - Raspberry Lemonade Mint
$4.49
Excludes excise tax.

Learn More >

Due to state regulations, we are required to collect excise tax in the following states: UT, OK, NJ, NJ, NV, ME, GA, CO, and CA. Other states not listed do not require excise tax. Learn more about excise tax rates here: https://pouches.juicehead.co/pages/excise-taxes

X
Select Your Quantity
Stock Up & Save Up to 25% Off | Mix & Match with Other Flavors
Buy 5 ($4.04/can)
$20.20

10% Off
Buy 10 ($3.82/can)
$38.20

15% Off
Buy 25 ($3.59/can)
$89.75

20% Off
Buy 50 ($3.37/can)
$168.50

25% Off
Pretty decent
Great flavor, Good buzz. Only con is it tears up your gums pretty good.
Excellent Flavor That Lasts
These have a strong flavor that lasts at least an hour. Other brands die out quickly but these don't. The 12mg is a great strength and the flavor is on point!
Hits The Spot
These pouches are great! Because of Juice Head products, I was able to quite chewing after 30 years. Best flavors and variety. Just wish there was a lower level of nicotine for them.
JUICE HEAD POUCHES - Raspberry Lemonade Mint
Best Lip Pillows Out
These were the shit. Went in a trip to Greece and had one in 24-7. Had about 20 other dudes in the group that swore by Zyn. Now they'll all be switching!
Great product
Love the flavor and the product
Delivery pending
I have tried and love all the flavors. I switch weekly just to keep it fresh. This is the first time I bought them directly. Unfortunately I forgot you have to have a person present of age to sign for them, so my package is in mail limbo right now. Keep up the great work
Enjoy a blast of refreshing raspberry lemonade flavor and a hint of cool mint with Juice Head Raspberry Lemonade Mint Nicotine Pouches. Made with Zero Tobacco Nicotine® (ZTN), Juice Head Raspberry Lemonade Mint Pouches are available in two nicotine strengths (6mg and 12mg) and offer adult users a flavorful, discreet, and smoke-free way to enjoy nicotine satisfaction anytime, anywhere.
Made with Zero Tobacco Nicotine

20 Pouches Per Can
Need to stock up? Check out our Raspberry Lemonade 5-Can Pack